THEYYAM of Gods, Heroes and Ancestors.
Kerala, India. 
HD 1920/1080
Filmed from 2016 to 2019
(Completed in post in January 2021)

Synopsis: 
Cultic and ritualistic arts have always exerted a great influence on the social life in India, especially Kerala, the home of a myriad range of performing traditions.
Prominent among these is the ritualistic art form of Theyyam.
During two months of the year, regardless of caste, social function, income, gender and age, people attend Theyyam rituals  to seek blessings, ward off evil spirits, cure disease, have a healthy child-birth, settle disputes, and gain advice and prosperity from the Gods.
Notes on the filming:
Filming a Theyyam ritual is often as much a feat of endurance as it is a technical and logistical challenge.  It goes on and on…and never stops.
By following one of the principle Theyyam performers — a man named Jayanandan Peruvannan — the film will provide an intimate look at some of these Theyyams ceremonies and the complex preparations and rituals that surround them.
THE ACTOR:
Jayanandan Peruvannan's family can claim many generations of actors.  
The weight of that responsibility is evident, as is the studied discipline and intensity in which Jayanandan assumes his role.
 We're allowed to witness his transformation, as his persona rises to the status of a God.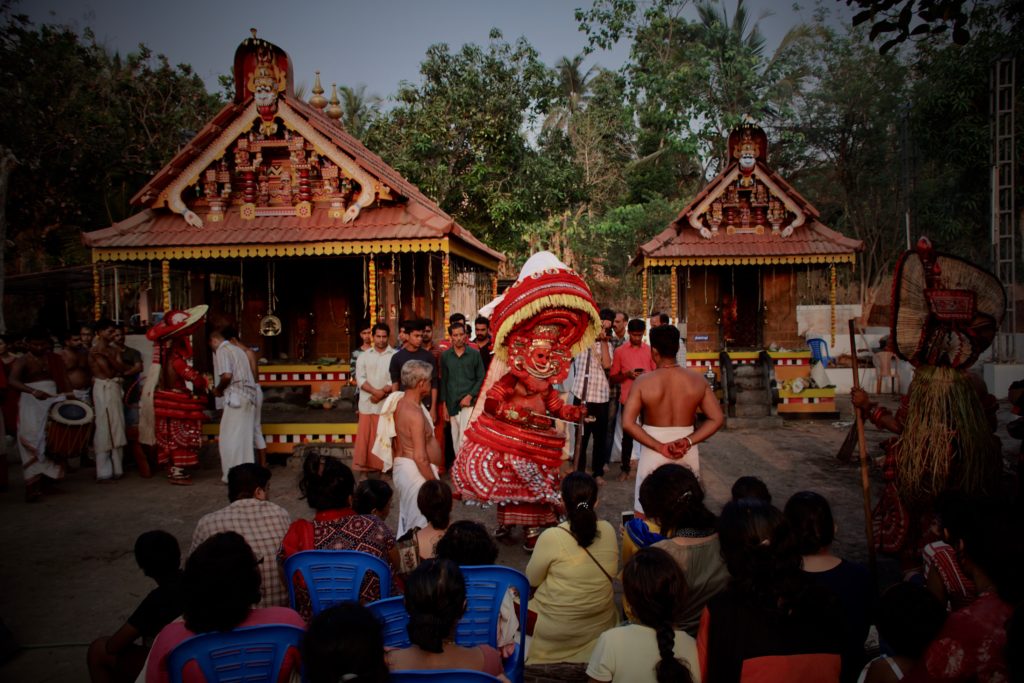 Vayanattu Kulavan Theyyam. Neeliath Sree Vayanattu Kulavan Kavu. Kannur. 2019
To see a Theyyam ritual is to believe in it. That is the only way to begin to approach, or at least attempt to imagine, the transcendent state that its players and participants are able to achieve.

A few Gods and Goddesses of Theyyam
There are between 400 and 600 Theyyam rituals still practiced today. 
Over 20 of these rituals have been filmed for this documentary. 
It was edited between 2017 and 2021 with each year bringing more materials.
Over 200 hours of footage in total have been recorded.
The release of the documentary in 2 parts ( 90′ each) has been postponed to an indefinite date and the rituals have been interrupted in 2020 and 2021
because of Covid.
Theyyam Of Gods, Heroes & Ancestors