THE LAST TRIBES OF BORNEO
for a documentary 52 minutes/ October 2023
INTRODUCTION


Indigenous people possess a profound relationship with their natural landscapes and depend on these territories for their cultural, religious, health, economic needs, and ultimately their survival. Their deep knowledge of natural systems and the care they take in the utilization of resources can and has provided critical insight for building a sustainable future. Sadly, in most instances, their voices and practices have been ignored. This willful disregard of native voices over centuries has placed humanity in peril.  
The relationship between the indigenous communities (the Dayaks and the Punans) of Kalimantan, Indonesian Borneo and the Bornean forest is the subject of this
52′ documentary.


THE DAYAKS and PUNAN TRIBES
The Dayaks and the Punans have inhabited the island of Kalimantan (Indonesian Borneo) for thousands of years.  It  is a vast area rich in natural resources and of great diversity.
But it continues to experience large-scale devastation due to industrialization and deforestation. To make matters worse, the effects of climate change are steadily compounding problems in the region. While the Indonesian government has preserved 45 percent of Borneo as conservation areas and forests, many other areas have been transformed into palm oil plantations, or scraped clean to extract coal, oil, and gold.
In 2022, I documented the impacts of various industries (National and foreign)  on the Dayak people, who live in the  forests of the interior of the island mostly in the Mahakam river region.

https://patrickmorell.com/works/environment/#coal|


Today, several Dayak organizations and NGO's such as AMAN and Walhi are waging an arduous fight against this encroachment.
https://patrickmorell.com/works/people/#activism


To make matters worse, the effects of climate change are steadily compounding problems in the region.

THE POWER OF NATURE
Indigenous cultures share a collective belief in the power of nature. This invisible force is recognized throughout their world, as well as in names, shadows, all earthly creatures, and in the souls of those who have passed away. The Dayaks call this energy semangat, though virtually every indigenous culture has their own name for it. Because it is invisible it cannot be measured, quantified or monetized. Yet to argue for its non-existence is to proclaim a barren, soulless and even a cynical world that justifies exploitation for no other reason than profit. 
Their spiritualized and animistic view of life endows the natural world with meaning and significance and underscores the vital connection indigenous people have to the earth and the cosmos. That is why people and place must be seen as one. They cannot be separated without damage to both. This awareness is clearly lacking in industrialized nations. But however elusive it is to recognize, it is vital to understand because it forms the central belief and obligation from which the proper stewardship of nature's resources resides. Arguably, the troubles we face today are a direct result of the violation of this sacred reality.
As a filmmaker, it is my belief that this reality must be acknowledged and somehow re-imbued in society for true and effective change to take place. The latest cognitive studies shows that we are all wired for a belief in something bigger than ourselves. In my previous  films, I have seen how intimate ritualist events that are captured on film can move  World  audiences (including the local audiences where the film is shot) .
My goal in 2023 is to focus on a particular Punan group called the Punan Batu, who live in the upper and remote eastern part of the island.
Copyrighted Golden Rabbit Films 2023
The Punan Batu ("Cave Punan") are the last known mobile hunter-gatherers in Borneo, and probably all of Asia.
 Genetic evidence shows that they can trace their roots to the hunter-gatherers of Pleistocene era, which lasted from about 2,5800,00 to 11,7000 years ago.
They arrived in Borneo a few thousands years before the Dayaks prior to the major sea level as the last ice age subsided around 8000 years ago.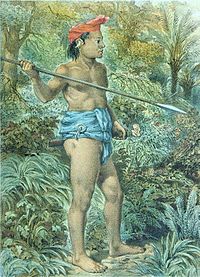 In forests along the Sajau River of North Kalimantan, the Punan Batu travel in small groups along a network of caves, rock shelters and forest camps. Whereas the Dayaks are more sedentary, the Punan Batu are nomadic.
They are also entirely dependent on their environment, the forest for their diet, shelters and needs.

Their staple carbohydrate diet is sago palm starch and  wild tubers. Extracting starch from the trunks of sago palms may well have formed the
basis of pre-agricultural economies of the earliest human immigrants into eastern Indonesia.
"However, while tubers and fruits remain important to settling nomads as well as hunting and fishing, it is notable that many sago-eating peoples have been shifting to the cultivation and consumption of rice, not only in Borneo but also throughout insular Southeast Asia."
(SOURCE:. Bernard Sellato. © Nordic Institute of Asian Studies 2007)

When resources dwindle in one area they move to another, often following the seasons of fruiting trees.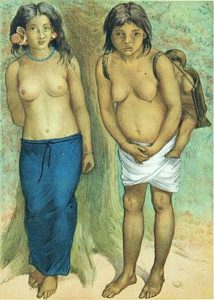 At the opposite of the Dayaks the Punans have little social organization. They live a nomadic lifestyle  sleeping in temporary shelters and surviving by trading forest products to settled village.
To communicate with fellow tribesman, they use message sticks attached to trees. A call for aid, for example, is treated with as much urgency as we might use 911. Their communications may also contain warnings about fires, floods, diseases, or other dangers.
The Punan's cultural heritage is reflected in a poetic song-language which is distinct from the other native languages of Borneo.


SOURCE:
J. Stephen Lansing,
Guy S. Jacobs
,
Sean S. Downey
,
Peter K. Norquest
,
Murray P. Cox
,
Steven L. Kuhn
,
John H. Miller
,
Safarina G. Malik
,
Herawati Sudoyo and Pradiptajati Kusuma
Cambridge University Press 2022
Alarmingly, the dominant theme of late song is the imminent threat posed by the encroachment of palm oil plantations on their territories, placing their survival in jeopardy because of the destruction of their native habitat.
The  PT Inhutani Sambavat oil plantation , has threatened the existence of the Punan Batu for a number of years.
THE FILM'S BASIC NARRATIVE
The story of the Punan's Batu survival will be seen through the daily lives of a tribal band who I will make contact with, and through the eyes of the group's recognized leader(s).
Viewers will see the true impact of industrial expansion on all aspects of their lives; what the erosion of natural resources means to the group, and by extension, the world.
I intend to include other voices, such as from younger generations who are caught between two worlds.
As well as other  perspectives from Punan Batu men and women on some current issues with the extension of the  mentioned palm oil plantation and what they perceive to world to become.
Do they know that the Indonesian government is planning to move Jakarta to a new site 800 kms from their territory?
In April 2017 the Joko Widodo (Jokowi) administration reawakened a dormant notion to move the country's capital from Jakarta, making a commitment to completely assess prospective alternative sites for Indonesia's new capital by the end of that year. (see chapter below about Nusantara)
As part of the larger narrative, I will also interview local and international biologists, professors and scholars in climate sciences related to the rainforest of Borneo. 
These important contributors will speak to the rich biodiversity of the Bornean forest and the need to preserve it.
For all of us.
I also will interview some government officials about the new policies such as Sustainable Palm Oil (ISPO)'s sustainability standards  
A positive effort has been conducted by the Indonesian government to control the negative effects of these vast exploitations ( Palm Oil) and by issuing relevant policies. 
In 2022 the Indonesian government have started to revoke many concessions to Palm oil large companies and that is considered as a smart move.
Still the threat  remains especially in the North eastern part of the state among the Punan Batu tribes. 
Other  topics such as the new capital, a new "green" vision for Indonesia, climate change and the sinking of Jakarta , will be addressed.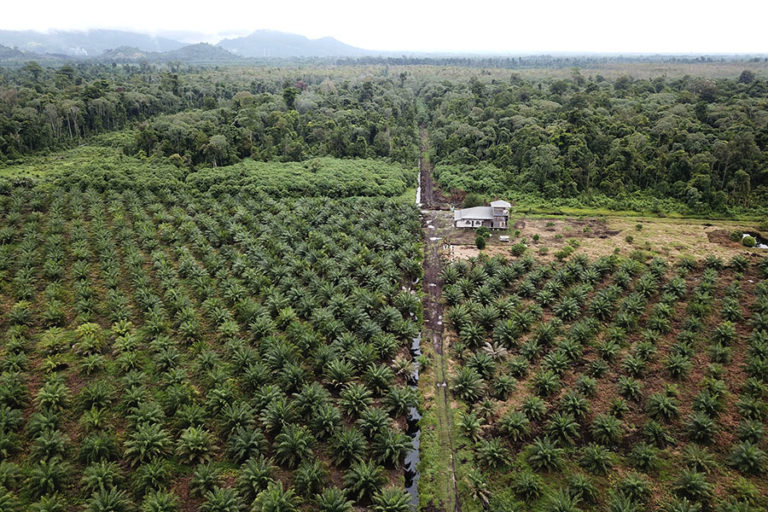 THE IMPACT OF INDONESIAN INDUSTRIES

Indonesia contributes to the global climate as the largest producer of palm oil, a major source of biofuel.
Ironically, as governments around the world seek to reduce their carbon emissions by decreasing their use of high carbon fossil fuels, the clearing of natural forests to make way for palm oil plantations or other industries, represents an enormous source of carbon emissions. Because of weak governance in the forestry and plantation sectors, along with human rights issues that are concomitant, Indonesia risks failing to deliver on its stated public commitment to reduce carbon pollution, while the situation for the Punan grows more precarious.
The Punan's specialized skills are derived from what is required to live off the land. For countless generations, this has enabled them to survive in a world of unspoiled beauty.
These skills are not easily transferrable to modern life — and that begs the question, why should they be evaluated in that context anyway?
Their technologies  have evolved to perfection in the world and the way they live.

Punan people and more particularly the Punan Batu  have stood up and protested against the destruction of their lands, but to no avail.
As one Punan told us, "We are told that it is "state" land. We are not recognized because we do not have an ID card."


As industries continue to devour a once green and fertile paradise, the Indonesian government  blithely looks on, while boldly announcing an initiative to install the future Indonesian capital called Nusantara (an Old Javanese term which means "archipelago" and which according to wikipedia, initially referred to the conquered territories of the Majapahit empire, corresponding to present-day Indonesia)  in  the middle of the Bornean forest in east Kalimantan,  a few hundreds miles south from where the Punans live. (about 800/900 Kms)
Here we are confronted by two visions and uses of the forest.
The first one, an ancient and timeless legacy from which we still can learn and perhaps alter our disastrous course. The other, a green city that could possibly be a model of what cities could look  like in the future or as  some call it a "a hollow urban/industrial fantasy" that "can never replace the natural world".
We plan to establish this different views and open a  dialogue about what the  futur of these natives people, of Indonesia and  the planet will be. 
From the farthest among one of the oldest indigenous groups  living in one of the oldest forest on earth, to the closest "Green City" "Nusantara" they call sustainable.
What reflexions and model can we think so we don't go to the total annihilation of the human species.

That's basically the main idea behind  the film.
Copyrighted Golden Rabbit Films 2023
NUSANTARA "The Green City" or "City of the Forest"
Located in eastern Borneo, Nusantara is set to replace the sinking and polluted Jakarta as Indonesia's political centre by late 2045. 
The final decision  is scheduled to be signed on August 17 (Indonesian Independence day)  2024.
The new capital NUSANTARA called also "The City of the Forest " will sprawl across 256,000 hectares in East Kalimantan province on the Indonesian part of Borneo.

Government buildings and housing need to be constructed from scratch. Initial estimates were that over 1.5 million civil servants would be relocated to the city, though ministries and government agencies are still working to finalize that number.
 
Will Nusantara really be 'sustainable'?
Officials say the new metropolis will be a "sustainable forest city" that puts the environment at the heart of the development. 
Plans for the new capital – about twice the size of New York City and four times that of Jakarta – are ambitious.
Officials tout the creation of a futuristic green city centered on forest, parks and food production that utilizes renewable energy resources, 'smart' waste management and green buildings.
Indonesian President Joko Widodo has pitched a utopian vision of a 'green' city where residents would commute on electric buses.
Digital renderings shared by the government show a city surrounded by forest, with people walking on tree-lined sidewalks. Buildings with plant-covered rooftops are surrounded by walking paths, ponds, clean creeks and lush forest.
Signs of a more-conscious approach to construction are visible: patches of trees remain fenced-off to protect them from machinery, a plant nursery has already started for the replanting process officials promise and industrial forest surrounds the site.
They say they aim for the city to be carbon-neutral by 2045 and for 65 % of it to be reforested.

"It can become a  template/ model for other countries to build cities inspired by their natural environments."
Sibarani Sofian. (multinational deigner in urban cities and one of the main architect of Nusantara)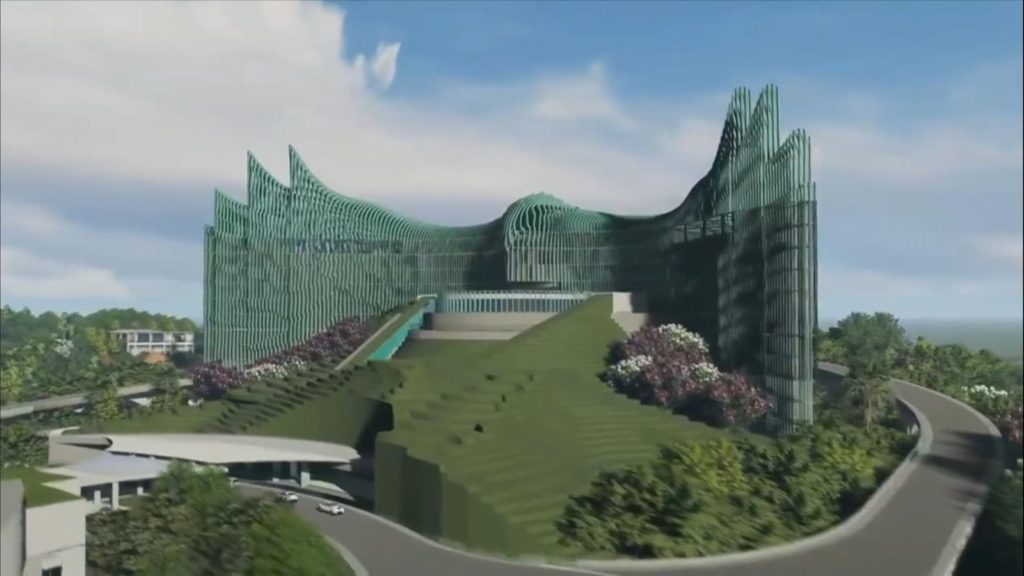 "Built on stilted buildings and elevated walkways  linking to transportation hubs,  the city's design loosely mimics the natural layering of a tropical canopy.
(Hannah Beech. NYTimes May 16 2023)
But with construction set to ramp up next year, environmentalists have cause for concern. 
Indeed, the  two-hours drive from the western oil city of  Balikpapan to the sweeping green expanse of Nusantara's "Ground Zero" reveals the scale of the new capital's potential impact on a biodiverse area that is home to thousands of animal and plant species.
https://patrickmorell.com/works/environment/#nusantara1
Environmentalists warn building a metropolis will speed up deforestation in one of the world's largest and oldest stretches of tropical rainforest, estimated to be more than 100 million years old.
"It's going to be a massive ecological disaster," says Uli Arta Siagian, forest campaigner for environmental group Walhi, told AFP.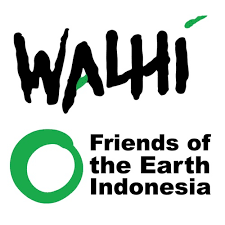 The Indonesian Forum for the Environment (WALHI) is the largest environmental movement organization in Indonesia.  Since 1980 until now, WALHI has been actively promoting efforts to save and restore the environment in Indonesia. WALHI works to continue to encourage the recognition of the right to the environment and the protection and fulfilment of human rights as a form of State responsibility for the protection of the people's sources of life.
Copyrighted Golden Rabbit Films 2023