THE PROJECT (Atelier Morales)
As in the previous projects from Atelier Morales ( Juan Luis Morales & Teresa Ayuso) , Arqueologia consists in a series of photos as an attempt to reflect on heritage and loss caused by abandonment, negligence and corruption. All consequences of inefficient and unilateral political systems.
The photographs and drawings  capture the interior of an old house.
Rusted machinery. Decayed walls. Dusty furniture. Telephones and the Diego Eliseo's poem inscribed on the wall.
The art work  aims at transcending  the simple and transmutes the romanticized view of life, which already negated a history of forced labor and land abuse, into a contemporary tale of loss and an ode to poetic memory.

The show"Reflexiones, Espacio Tiempo Existencia"  was curated by Hilda Barrios, and was on  on view through December 2015 at Atelier Morales Habana.

Mr Jorge Perez acquired the Arqueologia series during the series exhibition in the Nina Menocal gallery in Mexico DF.

The series was exhibited later in the PAMM (Perez Art Museum Miami)  in the exhibition of the donation of Jorge Perez to the collection of the PAMM."
"En Cuba, durante 55 años, hubo una continua emigración de familias que abandonaron definitivamente sus casas. A través de la serie "Arqueología", inspirada en el poema del poeta Eliseo Diego, "Arqueología", que evoca la sensación de desolación que despierta la visita de esas casas deshabitadas y actualmente en ruinas, Atelier Morales muestra ese patrimonio familiar que años de abandono han degradado hasta su completa desaparición. La serie narra tácitamente la vida que ha desaparecido, pero que deja huellas en los objetos cotidianos y construye la memoria familiar. En esta exploración los artistas se detienen en la captura de imágenes que permiten advertir el paso de lo invisible e impalpable. El espectador esta obligado, frente a la obra, a detener la mirada para descubrir los fragmentos del poema, que no se distinguen con claridad y arqueólogos que excavan tratando de desenterrar las historias de estas familias para explicar cómo se han extraviado. "Arqueología" se presenta como una reflexión sobre la familia, el patrimonio más importantes de la sociedad.
Mediante este refinado trabajo fotográfico, Atelier Morales, construye espacios trascendentes que, en esencia, le conceden a la arquitectura un lugar para simplemente existir y por extensión, proporcionan los medios para sentir profundamente la relación con el mundo. Un cuidadoso trabajo investigativo que les ha permitido asumir con eficacia sus propuestas, cargadas de asociaciones culturales, apoyadas en una exquisitez formal que los confirma como excelentes artistas."
by Patricia Avena (Arts Magazine.France 2015) 
Juan Luis Morales/ Teresa Ayuso
Havana Cuba/ Paris France
2017/ 2021
HD 1080p
lenght: 19′ 16″
Art works: Atelier Morales 
Director: Patrick Morell
Music:  Benjamin Reyes.

Password requested.
Synopsis:
Juan Luis Morales and Teresa Ayuso aka Atelier Morales  present here  "Arqueología No. 2" or Archeology Num. 2 from their series "Patrimonio a la Deriva Arqueología" making reference to the poem "Archeology" by the National Prize for Literature '86, Cuban-born poet, Eliseo Diego (1920-1994).
Juan Luis and Teresa works depict a Havana house left by their owners who were part of the constant Cuban migration that has taken place for more than 55 years. 
An archaeologist appears as a ghost trying to unearth the history of such place while trying to understand how quickly families disintegrate when they loose their land of origin, their birthplace, their roots and patrimony.
The film addresses these questions during conversations with the artists including the topics of the disintegration of the family, the abandonment and loss of memory.
All being  concerned with Cuban heritage, now and then, inscribed in the space of the old house.


The film was shot and edited by Patrick Morell between 2015 (Havana) and 2017 (Paris)
It was produced by Golden Rabbit Films (US)
The music was composed and mixed by Benjamin Reyes (2017)
Atelier Morales, the two-artist collective formed by Teresa Ayuso and Juan Luis Morales, work mainly with the medium of photography, focusing on themes of history, architecture, culture and collective memory.
Trained as architects, they left Cuba and live in Paris where they promote Cuban art, architecture and design in France.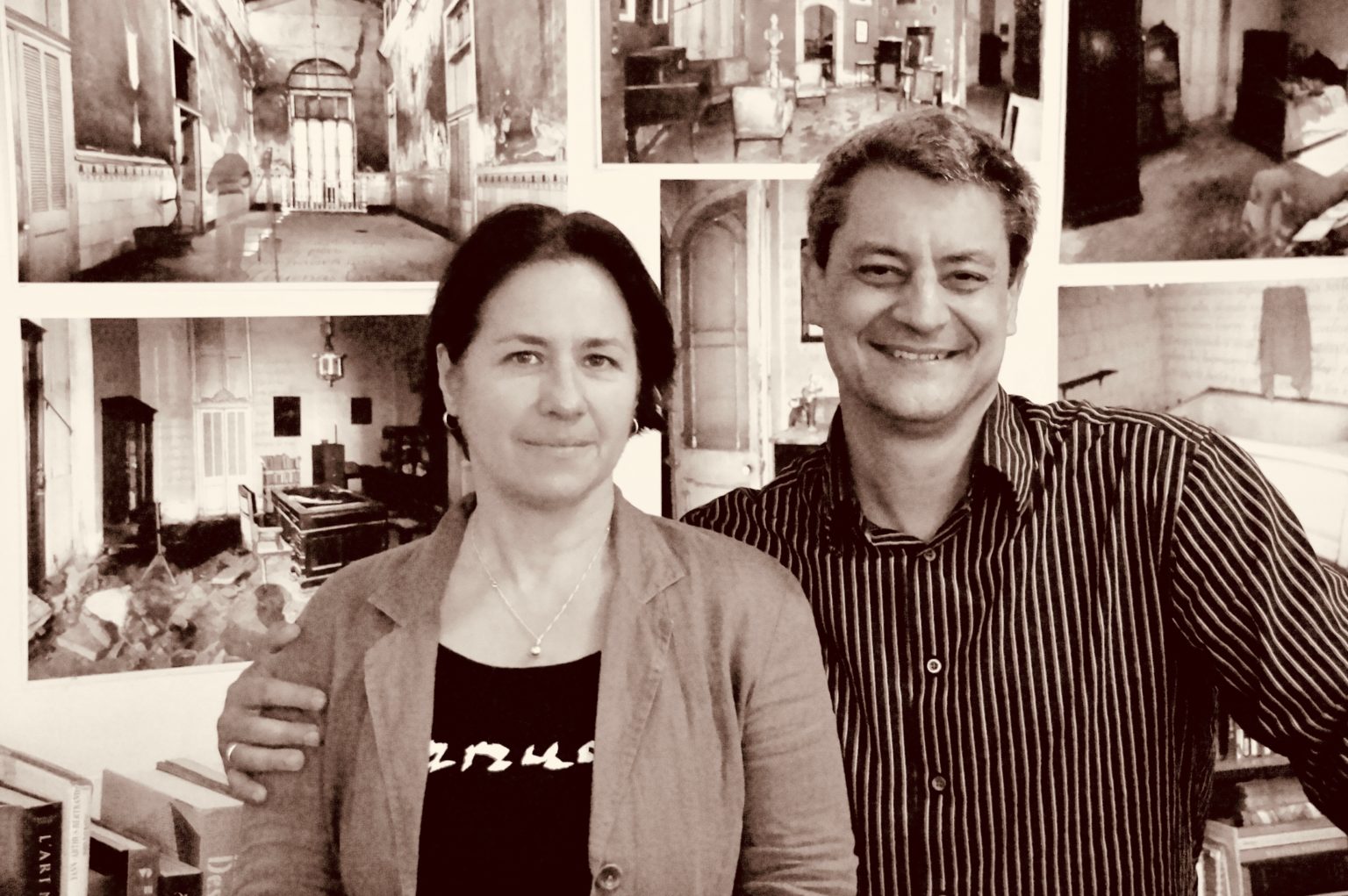 Teresa Ayuso & Juan Luis Morales . Paris 2015
Their photographic work, often hand-tinted or technically altered, offers scenes that mix fantasy with reality while investigating social and political issues.
They have participated in various \"art biennials\" as: PRAGUE BIENNALE1, Space and Subjectivity, Havana Biennale, 3rd Beijing International Art Biennale and in the 55th Biennale di Venezia of 2013.
Several important contemporaries art museums are exposed their woks in personals or collectives exhibitions as:
Museum of Latin American Art (Molaa) of Los Angeles, Museum of Contemporary Art of Chicago, Sheldon Museum o f Art in Nebraska, Centre Georges Pompidou in Paris, Schirn Kunsthalle of Frankfurt and the Heidelberger Kunstverain in Germany, Ayuso studied architecture at the University of Havana and later continued studying industrial design at the Universidad Nacional Autónoma de México.

Juan Luis Morales also studied architecture at the University of Havana and in the Ecole Nationale Superieure d'Architecteure de Paris La Villette in France where he is currently professor.
They are represented by Nina Menocal gallery in Mexico City and Heart galerie in Paris, those who have been exposed in many international art fairs like ArtBasel Miami Beach, ARCO, SCOPE, PULSE, ART PARIS, DIVA, MACO, ART FORUM, PALMBEACH, etc
There work are part of important private international art collections as CIFO (Cisneros Fontanals), International Kids Foundation and Jorge Perez in Miami USA among others.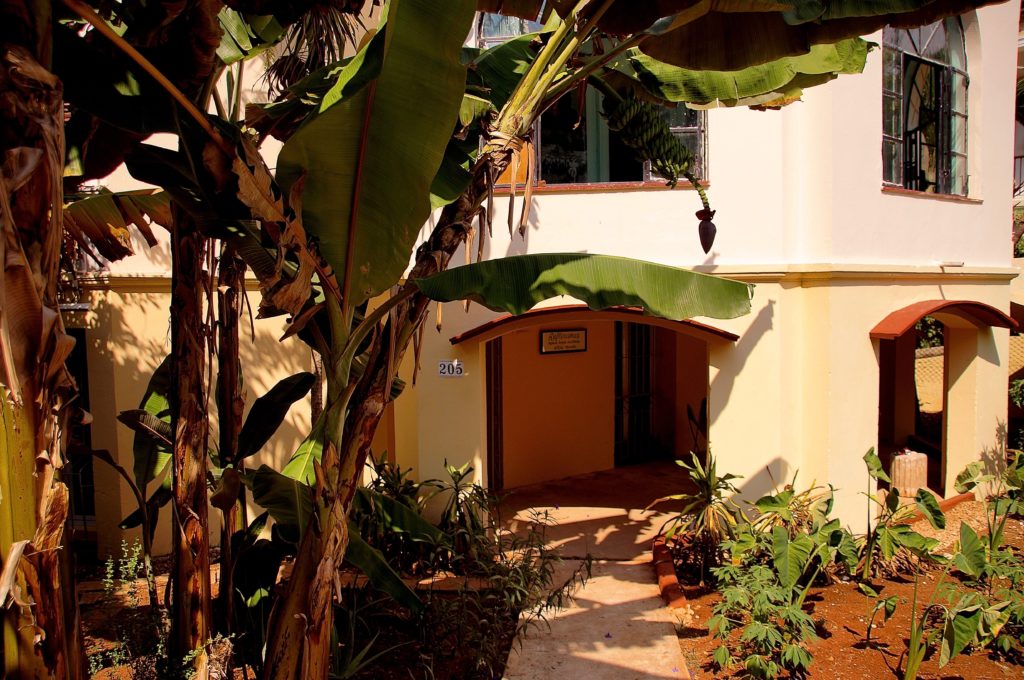 House in Vedado , Havana Cuba, set of the exhibition (Havana Biennale) and film set during shooting in 2015