TWU (Transportation Workers Union. Local 100 Brooklyn)
Manhattan, New York.
March 2020
HD 1080p
Reel Duration:  6'21"


On March 29th New York City has become the epicenter of coronavirus in the U.S with over 47,000 cases.
The pandemic has forced millions of New Yorkers into their homes as local and state government enforce another 30 days stay-at-home order to try and flatten the curve.
What remains is a surreal and eerie state of quiet and calm across a city that is typically unaccustomed to life without the noise and chaos that makes up the very fabric of New York. Now between the intermittent screams of sirens as ambulances rush new patients to overwhelmed hospitals, the only noise one might hear are the sounds of birds singing.
While New York may still be the city that never sleeps, it is also a city that has been subdued, muted and left immobile.
This reel was shot in Times Square on  a Sunday afternoon, March 29th.
An icy rain was falling; felt like ashes falling from a low dark sky.
Manhattan, USA
April 2020
HD 1080p
Reel Duration: 9'31
Manhattan, USA
April 2020
HD 1080p
Reel Duration: 4'39"
Everywhere, gates lowered. Bar stools stacked upside down.
The boutiques of Soho, the specialty shops of Greenwich Village — for chess, for board games, for records — all locked away and dark. Little Italy's signature sidewalk tables for alfresco dining had been hauled inside, leaving Mulberry Street just like any other street.
New York City's new face under coronavirus showed itself under bright, blue skies in the spring of 2020.
It was a shuttered streetscape stripped of commerce and the jangled rhythms of footfalls, honking horns and even people's voices, a scene that might follow a blizzard, overlaid on a cool spring day.
Some New Yorkers ventured out from isolation, alone or in very small, for a peek around, filling the stillness with their own narrations on a city's mood.
I was one of them… alone with my camera.
TWU (Transportation Union Workers)
The Transport Workers Union of America (TWU), AFL-CIO represents more than 150,000 members across airlines, railroad, transit, universities, utilities and services across the United States.

The Transport Workers Union of America, AFL-CIO represents more than 150,000 members across the airline, railroad, and transit, university, utility and service sectors.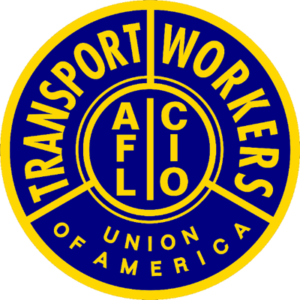 It is constituted of mechanics, car cleaners, baggage handlers, disease control inspectors, bus operators, ramp agents, flight attendants, and more.
It is on the front lines of moving the American economy forward, keeping the traveling public safe and offering working people a voice on the job since 1934.
TWU has three divisions: Air, Railroad, and Transit, Universities, Utilities and Services. It represents over 100 autonomous locals with members from across the United States.
Source: TWU https://www.twu.org/about/

The Metropolitan Transportation Authority is North America's largest transportation network, serving a population of 15.3 million people in the 5,000-square-mile area fanning out from New York City through Long Island, southeastern New York State, and Connecticut.
The MTA's provision of safe, clean, efficient public transportation is the lifeblood of the New York City area, one of the world's major economic hubs. It opens up employment opportunities for millions of area residents, linking them to jobs miles from their homes.
It revives old neighborhoods and gives rise to new business corridors. It links millions of residents and visitors to cultural, educational, retail, and civic centers across the region.
The pandemic has profoundly disrupted the largest public transit system in America, throwing it into financial turmoil. But getting more people on public transportation will be a crucial component of New York City's plan to become carbon neutral by 2050. The system needs to grow — right at a time when it is facing a sharp decline in ridership and revenue.
Subway rides, bus rides and car trips in New York City fell drastically last March as coronavirus cases surged and the city entered a mandatory lockdown. Some residents who could afford, left  the city for second homes or rentals in the suburbs.
Many employees switched to remote work and have not yet returned to their offices.
Keeping the city's buses and subways moving has been crucial for transporting medical and essential workers, but, with fewer riders, the city's public transit organization is now facing its worst budget crisis in history.
Bus drivers
April 2021
HD 1080p
Reel Duration: 3′ 07″
Train conductors
April 2021
HD 1080p
Reel Duration: 9'09"
In 2020 subway riders remains there quarters below pre- pandemic levels.
It was an unprecedented drop for a mass system that once served over three quarters of nearly four million people who commuted to Manhattan each day according to Manhattan senior Fellow Nicole Gelinas.
As for the buses, crucial to New York's recovery from the pandemic the traffic has roared back but  a congestion pricing plan to discourage drivers from using Manhattan's busiest sections has been delayed. 
While many people have yet to return to the transit system, buses have proved more resilient than the subway and commuter trains.
Bus ridership, which fell to 20% of pre pandemic levels in April 2020 has bounced back to 62 % .
(Winnie Hu and Anna Schaverien NY TIMES) 
F train
2021 iphone 12
Reel Duration: 5′ 40″
The yards 
2021
iphone 12
Reel Duration: 11 36″
F train Brooklyn- Manhattan
 Go Pro9
Reel Duration: 7′ 51″
As coronavirus swept into the city in March, MTA workers were particularly hard hit.
Thousands of employees became sick and 126 of them, primarily subway and bus workers, died.
Transport Workers Union Local 100, which represents bus and subway workers, has for months been planning its own memorial at its headquarters in Downtown Brooklyn.
Among the at least 33 subway and bus workers who have died from COVID-19, the MTA's bus drivers have taken the biggest hit in an agency with more than 74,000 employees.
By comparison, the NYPD has lost 13 members to COVID-19 from a workforce of more than 55,000 people, while the FDNY has suffered two deaths among its more than 40,000 employees.
During his Tuesday briefings, Gov. Andrew Cuomo saluted the sacrifices of transit workers, pointing out how difficult it can be for bus operators to socially distance.
The toll among bus drivers has been spread across the boroughs — all of the dead were based in separate depots in Queens, Brooklyn, Manhattan and The Bronx — highlighting the wide reach of the pandemic.


The union has hired a Brooklyn artist and a design firm to create a memorial that will feature a painting, a plaque and the names of those who died from COVID-19.
"This memorial will be a fitting tribute to our fallen heroes and to all transit workers who put this city on their shoulders during the darkest days of this terrible plague and continue to do so despite the ongoing dangers," said Tony Utano, president of TWU Local 100.
The Hometown Heroes Parade
Canyon of Heroes, July 7, 2021. 

Amid scorching summer heat, health care workers, first responders, transit workers, teachers and food delivery workers were among those making their way up the aptly named "Canyon of Heroes" to mark the city's ongoing emergence from the pandemic.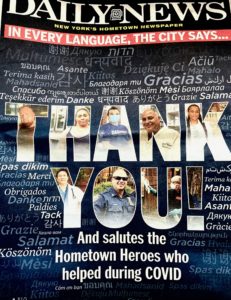 These were the New Yorkers who kept the city going during some of its darkest days .
They got  their moment in the sun on July 7th.
The "Hometown Heroes" parade from the Battery to City Hall represented the 207th time that a ticker-tape celebration has been held in Lower Manhattan — and the first since a 2019 salute to the U.S. women's national soccer team that won the World Cup.
Hometown Heroes Parade
July 2021
HD 1080p
Reel Duration: 18′ 13″
The July 7th event followed a 16-month stretch in which the city became the epicenter of a global health crisis that killed more than 33,000 New Yorkers shuttered businesses or left them struggling to survive, testing those who stuck it out.


Mr. Utano President of the TWU (Transportation Workers Union) thanked the membership and in a statement said  "We all kept the faith throughout the pandemic, and together battled to keep our workplaces safe and to move the union forward on all fronts."
He continued, "We secured billions in Federal aid for the MTA which will guarantee our jobs, our benefits and the sanctity of our collective bargaining agreements for the foreseeable future. Better days are coming, and I am thrilled to be able to continue as President of this great organization, TWU.
Sources: New York Times. twu local.  The City. Bloomberg. Daily News. NYPost. Brooklyn Daily Eagle.
I was invited by the Union to participate in the parade as a cinematographer. It was a great day in New York!
And thank you for all those (from the TWU buses and trains Local 100)  who helped me on this historical project. 
Always ready for New York!
Neighborhoods in Queens, Brooklyn and the Bronx, which are home to more people of color and families with lower annual income than most parts of Manhattan, are also home to many of the city's essential workers and have retained more of their subway riders. Those subway stations report closer to 40 percent of their pre-pandemic ridership.
Jackson Heights/ Roosevelt Blvd, Queens
Aug  2021
HD 1080p
Reel Duration: 11′ 49″
Roosevelt Blvd, Junction blvd/ 74th st/ Jackon Heights
Queens. Aug 2021
HD 1080p
Reel Duration: 12′ 25″
Before the pandemic, New York City's subways were the city's most popular mode of transit. There were nearly 1.7 billion turnstile swipes in 2019. But last March, ridership fell 90 percent and has only recovered to a third of what it was before the pandemic.

Transportation researchers attribute New York City's drop in public transit riders to the shift to remote work and say that the dip in tourism may also be contributing to fewer subway rides.