TEYYAM of Gods, Heroes and Ancestors
Kerala, India. 
HD 1920/1080
Filmed from 2016 to 2019
In post production in 2021

Synopsis: 
Cultic and ritualistic arts have always exerted a great influence on the social life in India, especially Kerala, the home of a myriad range of performing traditions.
Prominent among these is the ritualistic art form of Teyyam.
During two months of the year, regardless of caste, social function, income, gender and age, people attend Teyyam rituals  to seek blessings, ward off evil spirits, cure disease, have a healthy child-birth, settle disputes, and gain advice and prosperity from the Gods.
Notes on the filming:
Filming a Teyyam ritual is often as much a feat of endurance as it is a technical and logistical challenge.  It goes on and on…and never stops.
By following one of the principle Theyyam performers — a man named Jayanandan Peruvannan — the film will provide an intimate look at some of these Theyyams ceremonies and the complex preparations and rituals that surround them.
THE ACTOR:
Jayanandan Peruvannan's family can claim many generations of actors.  
The weight of that responsibility is evident, as is the studied discipline and intensity in which Jayanandan assumes his role.
 We're allowed to witness his transformation, as his persona rises to the status of a God.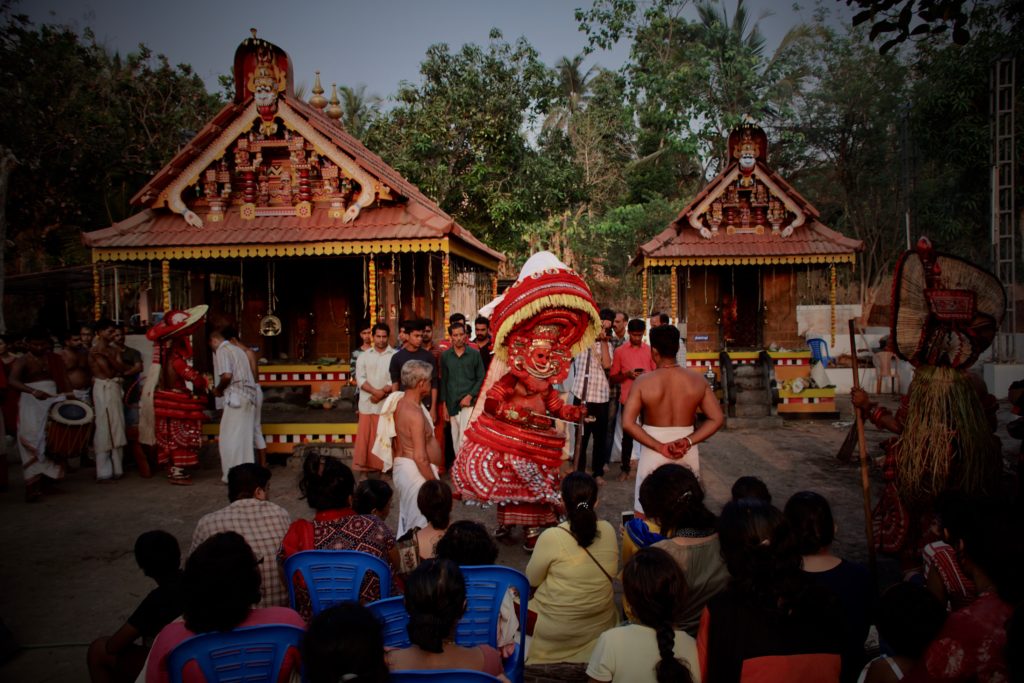 Vayanattu Kulavan Teyyam. Neeliath Sree Vayanattu Kulavan Kavu. Kannur. 2019
2021
Teyyam of Gods, Heroes and Ancestors 
Cannes Film Market
https://cinando.com/en/Film/theyyam_of_gods_heroes_and_ancestors_365304/Detail

2020
The Defenders of the forest. 

(environmental series in Kalimantan, Indonesia) with UNDP  (project cancelled)
Teyyam of Gods , Heroes and Ancestors. (long version)
At the Cannes Market.
https://cinando.com/zh/Company/golden_rabbit_films_8978/Detail
https://www.festival-cannes.com/en/infos-communiques/communique/articles/cannes-marche-du-film-2020-online-from-monday-22-to-friday-26-june
Teyyam film at Festival Europe by Europe and member of jury (cancelled)
https://evropafilmakt.com/2020/jury/present/
2019
Travels, Filming and Interviews in Kerala with Indian and Keralite scholars for
the documentary about the Teyyams rituals.
Inuit lands, The Melting Point at the Napa college (California)
https://napavalleycollege.libguides.com/c.php?g=961920
2018
Inuit Lands, the Melting Point in Sweden and Russia.
https://www.hivshu.net/post/inuit-lands-the-melting-point-an-official-trailer-for-the-documentary

2017
Inuit lands, the Melting Point at the 31 st wine Film festival /Glenn Ellen Film festival, California
Jack London Spirit award 
https://www.sonomanews.com/article/entertainment/wine-county-film-fest-returns/
https://www.pressdemocrat.com/article/lifestyle/berger-on-wine-the-effects-of-the-fires-on-north-coast-wine/
https://cinando.com/en/Film/inuit_lands_the_melting_point_260856/Detail

2016

https://filmfreeway.com/1347937
Inuit Lands The Melting Point at Explorers Club NYC
https://explorers.org/events/detail/film_screening_inuit_lands_the_melting_point
Inuit Lands The Melting Point at INA (National audiovisual Institute)
https://www.screenopsis.com/www/program/56d9b341-a041-4d07-a388-b458cfe0c73f/home

2015

High train to Tibet Explorers club NYC
https://explorers.org/events/detail/nyc_film_screening_high_train_to_tibet1
Inuit Lands The Melting Point & Master Class
at Europe by Europe film Festival in Paris, France
http://evropafilmakt.com/2015/en/
http://evropafilmakt.com/2015/gallery/2015-03-21-master-class-de-patrick-morell/
Inuit Lands the Melting Point at COP 21. Paris, France
ttp://www.undp.org/content/undp/en/home/presscenter/pressreleases/2015/11/11/indigenous-people-take-steps-to-have-a-voice-in-cop21.html

2014

High Train to Tibet at INA (National Audio visual Institute of France)
https://www.screenopsis.com/www/program/c06a5ea4-3e6a-48db-bec7-a0c9c35743d6/home

2012
NAGALAND The Last of the Headhunters
at Margaret Meade film festival
NYC
https://www.amnh.org/explore/margaret-mead-film-festival/archives/2012/films/nagaland-the-last-of-the-headhunter